At a glance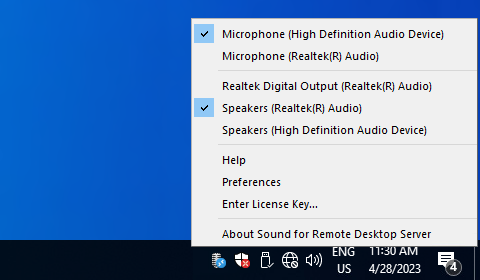 Sound for Remote Desktop is a nifty sound virtualization tool which was built with a purpose of improving sound input in the remote desktop environment. The product extends functionality of remote desktop protocols and delivers high-resolution and low-latency remote audio playback.
---
How does it work?
Sound for Remote Desktop consists of two parts, Server and Workstation.
The Workstation is installed on the local computer where the your local audio devices are physically presented. The Server should be installed on the remote side (remote desktop server, VDI, distant computer or cloud instance). Once you are logged into remote session, your local sound devices will become accessible on the remote side as a virtual devices.
---
Built with security in mind
If you work in a multi-user environment and there are more then one user logged in, your local sound card will be isolated from others within your individual remote session. No one but you can hear your microphone or even see your it in the system.
Workstation and Server parts of the program are connected directly. No FabulaTech or any third-party servers are involved. The only exception is optional checking for new versions. So the solution can be locked in your local network without Internet access.
All communication is performed via virtual channels as a part of remote desktop protocols. Therefore, connection security is provided by existing remote desktop protocols encryption and authentication.
---
Works with virtually any device
Thanks to product architecture there is no such option as "unsupported device". USB headset or microphone with 3.5mm jack, embedded or discrete sound card - if it works in your local system, it will work in the remote desktop session.
---
Supported remote desktop protocols
Sound for Remote Desktop supports Microsoft RDP, Citrix ICA, Amazon NICE DCV, VMware Blast and Teradici PCoIP protocols and will redirect your serial devices to Microsoft Azure, Remote Desktop Services, Hyper-V, Citrix Virtual Apps and Desktops, VMware Horizon, AWS and other environments.
---
Double hop session support
You can connect from your workstation to remote Server 1. And then initiate a connection to another Server 2 session from Server 1. The device will be accessible on Server 2 without any additional configurations.
---
Other useful features
Full DirectSound compatibility. Work with any sound and dictation software. Use Skype, Zoom, Microsoft Teams without any headache in your remote desktop session.
High-quality sound stream thanks to advances encoding algorithms.
---